Project Neon es el nuevo lenguaje de diseño de Microsoft y aunque sigue sin llegar oficialmente a Windows 10 en versiones estables, ya hemos visto como muchas apps en las versiones para Insiders lucen detalles nuevos en su interfaz bastante interesantes.
Microsoft seguramente no logrará convencer a todos con estas transparencias y efectos estilo aero, pero a los que sí llama la atención el diseño Neon, seguro les interesa tener lo nuevo cuanto antes. Sin embargo, para ello hay que ser Insider, es decir, convertirse en betatester de Windows 10.
La buena noticia es que puedes instalar las apps con diseño Neon en tu Windows 10 ya mismo siempre que tengas la Creators Update instalada, y permitas la instalación de prueba de aplicaciones.
Esto es gracias a que un usuario de Twitter ha subido los paquetes actualizados de todas las apps con Neon a la nube para que cualquiera pueda descargarlas e instalarlas.
Here you go guys. All Insider flights that are newer than the inbox apps, including Acrylic/Neon goodness. Have fun?https://t.co/E0MrkCdeuG

— Indigo (@tfwboredom) 7 de mayo de 2017
El paquete incluye Groove Music, Películas y TV, Calculadora, Grabador de voz, Mapas, Cámara, Tienda, Outlook, Fotos, Contactos, Skype, Paint 3D y OneNote.
Cómo instalar las aplicaciones Neon
Lo primero que tienes que hacer es cambiar un ajuste importante desde el menú de Configuración de Windows 10 que te permita instalar paquetes APPX. Esta es la extensión de las aplicaciones Modern.
Presiona la tecla de Windows + I y haz click en Actualización y seguridad. En el menú lateral elige Para programadores y marca la casilla Efectuar instalación de prueba de aplicaciones.
Descarga el paquete de apps desde Google Drive. Pesa unos 1.2 GB. Nosotros lo hemos escaneado con Windows Defender, puedes hacerlo con el Antivirus de tu elección si así lo deseas.
Extrae las aplicaciones e instala todas las que quieras simplemente haciendo doble click sobre ellas. Algunos nombres de los paquetes no son precisamente los más descriptivos, por ejemplo "microsoft.windowscommunicationsapps…" es Correo y Calendario.
Al intentar instalar cualquiera de estos paquetes verás una ventana que te dice exactamente de que app se trata, con su descripción y permisos antes de continuar la instalación, que además es rapidísima.
La diferencia no es extrema, pero está ahí. Prueba abrir cada app antes y luego después de actualizada para que notes más el cambio. Por ejemplo, así era la app de Fotos normal:
Y así se ve con Neon: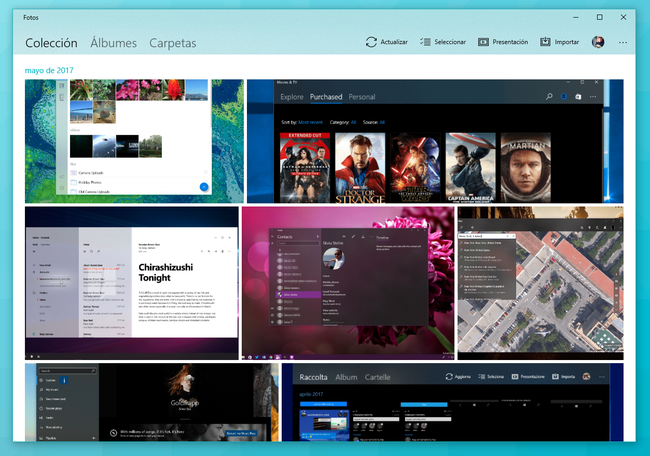 El color con el que se acentúa depende de dos cosas: tu fondo de pantalla y los colores que tengas elegidos para personalizar Windows.
Vía | Winaero
En Genbeta | Lo bueno y lo malo de Project Neon, cómo Microsoft busca mejorar el diseño de Windows 10
Powered by WPeMatico