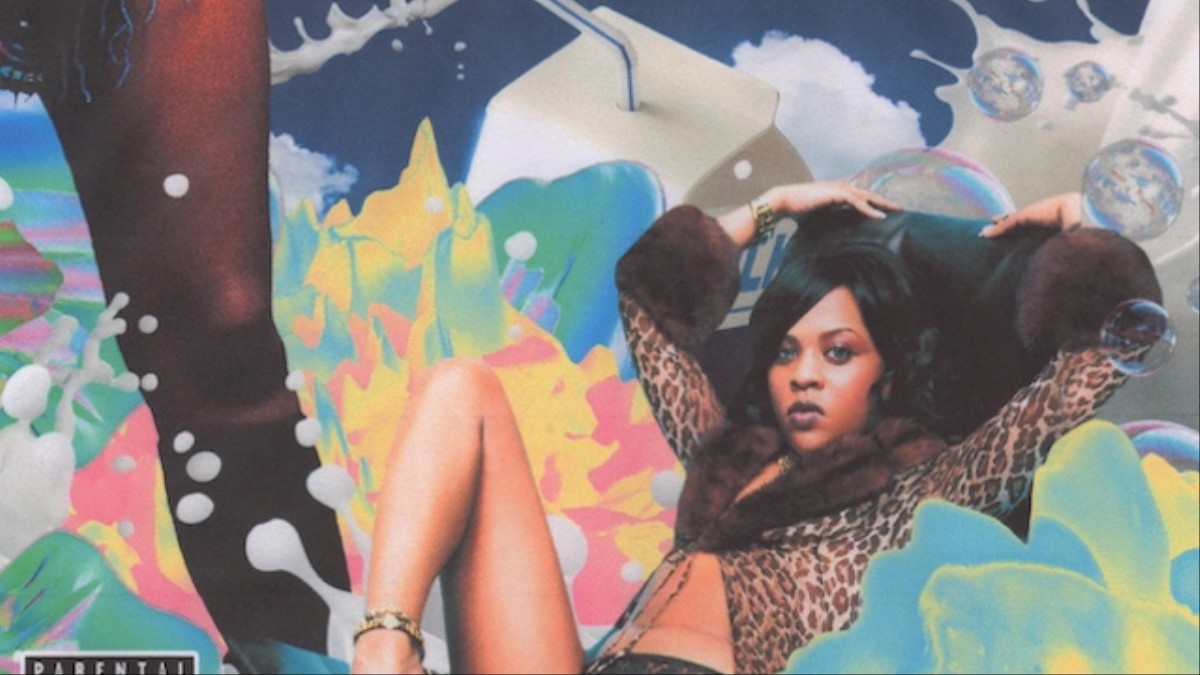 "I want to tell people this too, if you could put this in there," the Chicago-based producer ICYTWAT says over the phone. "It is not hard to make music. At all."
I've reached ICYTWAT, best known as the principle beatmaker of beloved Richmond, Virginia-based rap collective Divine Council, at his home in Chicago. He's in the middle of describing his production setup, which involves his bedroom, about $400 worth of gear, and some pirated software. "You can snap on anything you want," he says. "Don't limit yourself."
It is this unshakeable DIY confidence that has led 19-year-old ICYTWAT to the release today of his long-awaited first solo project, which we are premiering. It's a majestic 11-song "story album," tracing the young producer's journey from solitude to love, that demonstrates his impressive range, both musically and emotionally.
Deep research—both the twists and turns of ICYTWAT's lived experience, and diverse musical listening well beyond his years—contributes heavily to informing MILK's striking aesthetic. He collects his sounds from an eclectic mix of sources: Odd Future, '90s R&B and neo soul, early Cash Money production, and Miami bass music are among his primary influences. All of these can be heard, in ways both subtle and overt, on his dense, dark beats, which blend booming drums and cavernous synths with tinkling melodies that at times—as on "DON JUAN," one of two collaborations with Divine Council mate $ilkmoney—deliver an eerie tenderness. At other points, his digitized nineties-baby nostalgia, rather than warm and fuzzy, feels distant and processed, with the unsettling emotional remoteness of a late-night infomercial.
Yet the sound is only half of ICYTWAT's story—and in fact, when it comes to his creative process, sound comes second. "I have to get visuals done first," he says, "so I have something to look at while I'm making everything." MILK's first breath of life was its porno-collage cover art, by web artist farris, and ICYTWAT keeps a running scrap book of images, many of which also come from the '90s: The legendary Atlanta street party Freaknik, which saw its meteoric rise and fall during that decade, is a central visual inspiration, as are the music videos of Hype Williams. MILK is filled with ghostly echoes of that bygone era.
This richly sourced blend of sights and sounds all adds up to a style of music ICYTWAT calls "Audio Pastel." He and $ilkmoney developed the term while discussing their shared experience of seeing colors as they make music. They realized they needed a name for their unique genre that captured that visual component, and Audio Pastel "rolled out perfectly," ICYTWAT says.
Even if you don't have synesthesia, the pastel color palette on MILK comes across unmistakably through its love story, which, ICYTWAT explains, is true to life. "I have to write what I live," he says. "I can't write anything fabricated…. The only thing I really know, and really that I can relate to, is females." The album is divided into two parts: the first is "just me flexin' up," he says, "being this single nigga," on mostly straightforward rap cuts. The first single, "PASTEL TALK," featuring $ilkmoney and LA rapper IndigoChildRick, is a menacing trunk-rattler. At the midpoint of the album, ICYTWAT realizes he's fallen for someone, marking the transformation, on the B-side, of stunt songs into love songs. A second single, "Clouds," features Atlanta singer Kyeoshin playing the female voice, passionately pleading over a mosaic of ambient buzz and reversed drum sounds—a surprising tonal shift that turns the solipsism of singledom into a lover's dialogue.
That MILK finds ICYTWAT rapping—with poise and swag, no less, as on "Z4 MUSIC"—is unexpected, even somewhat to ICYTWAT himself. "I'm not a rapper," he says. "[But] it's certain beats that I can't see anybody else on, so I just kinda force myself to write to it, and just see what I can do with it." Many of the raps come from a journal he kept on tour last year, opening with Divine Council for Young Thug and 21 Savage, an experience he calls "life-changing." The entries, which he forced himself to write in rhyme, wound up fitting the sound he was developing for MILK perfectly.
In this, as in the rest of his process, ICYTWAT always seems prepared to follow his artistic vision wherever it may lead—even if it means stepping outside his comfort zone. But on MILK, at album length, painting vivid pictures in audio pastel from both sides of the mic, he seems as comfortable as ever.
Listen to MILK below
Follow Joseph Henry Staten on Twitter.
Powered by WPeMatico