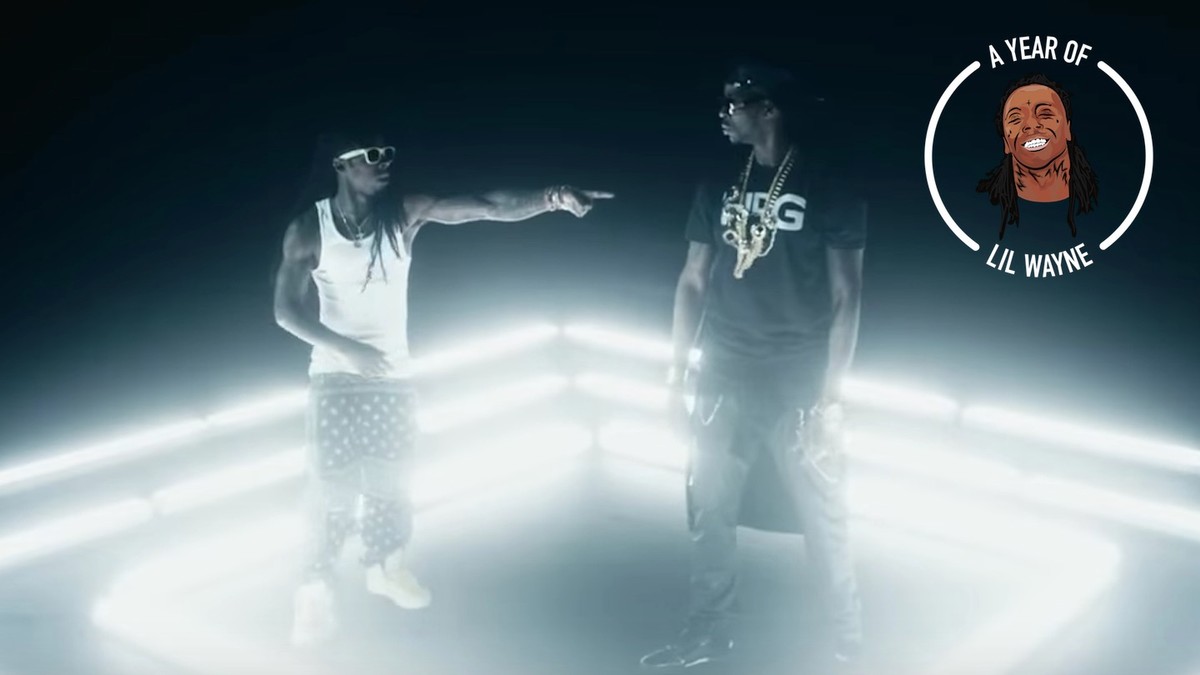 Day 255: "Yuck" feat. Lil Wayne – 2 Chainz, Based on a T.R.U. Story, 2012
Yesterday, I wrote about the producer Streetrunner unearthing old Lil Wayne cuts. But while Streetrunner produced many of Wayne's most iconic songs from the mid-2000s, he hasn't gone away. He's had several songs with Wayne and others in the years since. And if working alongside Wayne during that 2006/2007 era taught him anything, it was how to recognize when an artist was hitting their stride.
2 Chainz has been hitting his stride nonstop for the last six years or so—just when you think he's peaked, he gets even better. Right now, he's one of my favorite rappers. So naturally, I had to ask Streetrunner what it was like producing one of the most iconic 2 Chainz songs, the Based on a T.R.U. Story album opener "Yuck," featuring Lil Wayne. Granted, Wayne's hook, which revolves around a line about a girl being on her period, is not his finest work, but he makes both chainz and choppers sound cool as fuck, and he provides a nice counterbalance for Tauheed.
The artist formerly known as Tity Boi takes the real honors here, though, between the part where the beat cuts out and he describes passing a girl back and forth with his partner like it's a game of hot potato and the part where he goes nuts on these bars: "Weed sack, big car, laying with my seat back / we next, we never left Holland, we back / all this ice on me and my niggas playing freeze tag." And that's just the beginning. How about the way he shouts, "I come through with the yopper on / Turn that nigga into hot bologna"? Or the part where he says "I got the chopper for the correspondents / the codeine got me standing horizontal"? Or the authority with which he raps, "Before Benihana's it was canned goods / before canned goods it was Similac / I'm from where they send shots then we send 'em back"?
I asked Streetrunner what it was like recording the song, and he said this:
I knew 2 Chainz back when he was Tity Boi, the Playaz Circle days. He was always hella cool. He was always with Luda, and shit was always good vibes with him. So we did music before that. And I remember seeing maybe like six months before the BOATS album was even started or even conceived, the momentum of that—2 Chainz started killing shit. He changed his name to 2 Chainz, dropped that mixtape. He was just, like, killin' it. I was looking at it like, 'yo, I'm seeing that momentum that Wayne had' …
I don't remember if I knew he was sticking Wayne on it—actually I found out later on. I think by the time we went to mixdown I found out that Wayne was getting on it. But I knew 2 Chainz's BOATS album was gonna be a big release. And then it happened to the first song on the album. So you throw that album on your playlist, and the first joint it drops that joint. I was like, 'yo, this is perfect.' And the video they shot for it was super dope. I like everything about that record. I also like—this is the greatest of all—that record, the musical composition that we got the idea for that record for was like 170 years old, so we didn't have to clear it the way you would clear like a soul sample from the 60s or 70s. So we got to eat. We got that publishing, no headaches. It was headache free. It was cool all around. And 2 Chainz went on to sell a million albums, and that album did really well, and me and 2 Chainz have been working ever since. He's got the same work ethic as Wayne.
He added that sampling symphonies is ideal because you just have to find musicians who can play the sheet music and then sample that because the music is in the public domain. "You could definitely catch some hits, some quick strings, some frantic-sounding shit that you can run through filters," he explained. "And if it's a hundred-plus years old, you don't have to clear it, so I highly recommend it."
The result was not only a song with that sound but a video with an actual orchestra in it. Take this as a cue, rich philanthropists of the world: Somebody needs to make one of those concerts where 2 Chainz and Lil Wayne perform with a philharmonic orchestra happen. If Migos can do it, these guys definitely deserve it. What better way to celebrate two of the greatest rappers of our era? They are definitely as good as Brahms or Bach or whoever. And if you're unconvinced on that point, I'll leave you with another quote from Streetrunner:
Something that some people don't realize is 2 Chainz is a spitter. That dude's got bars. He might simplify shit for the dummies or make hooks just to fuck with people, and it's almost like he's trolling, to make these hooks to get it turned up. But at the end of the day, man, if 2 Chainz wants to spit some bars, he can spit some bars. He's got it. I've heard it. I've seen him do it. I've seen him go in the booth and just black out. He doesn't write nothing. He doesn't want anything that has writing. So if you're like 'yo, check this hook out,' he doesn't give a shit. He's like 'nah, play the instrumental, I'll do my own shit.' So, like, he's super dope like that.
And you've got to remember he was part of the hype: his whole momentum and movement with Kanye West and G.O.O.D. Music and what Kanye had going on with "Mercy." He was doing crazy features. He had smash hits, he had the streets, he had the features, and then he had the music to back it. It was almost exactly Tha Carter III theory. If you're going in and you're trying to be that artist and really like make some power moves happen for you—those two guys did it.
Follow Kyle Kramer on Twitter.
Powered by WPeMatico