En agosto del año pasado, Microsoft anunció que por fin se podían instalar extensiones en Microsoft Edge. Desgraciadamente, su catálogo no se puede comparar con otros navegadores, así que hoy vamos a recomendar algunas de las mejores opciones disponibles.
Save to Pocket
Es una herramienta imprescindible para los que nos que nos pasamos gran parte del día navegando por Internet. Muchas veces nos encontramos con artículos que tienen muy buena pinta, pero justo en ese momento no tenemos el tiempo suficiente para leerlo con calma. Gracias a la extensión para Microsoft Edge podremos guardarlo para que no se pierda en el olvido.
Reddit Enhancement Suite
Creo que no podría contar la cantidad de horas que dedico a la semana en Reddit. Reddit Enhancement Suite (RES) es una herramienta imprescindible para navegar por la plataforma, ya que te permite cambiar el fondo de pantalla, previsualizar los comentarios antes de publicarlos, cambiar de cuentas rápidamente, abrir las imágenes sin tener que abrir nuevas pestañas, etc.
Page Analyzer
Esta herramienta está orientada, sobre todo, para programadores de páginas web. Se encargará de analizar una página web y ver si sigue las prácticas correctas en cuanto a los estándares de programación. Puedes encontrarla gratis en la Windows Store.
Ghostery
Si te preocupa la privacidad, Ghostery evita las tecnologías de seguimiento, muchas de las cuales están ligadas directamente a la publicidad. Eso no significa que vaya a hacer desaparecer los anuncios, pero sí tendrás menos sensación de que te están espiando.
Turn Off The Lights
Si una aplicación me da la opción de poner el 'modo noche', lo activo. Esta extensión nos permite acabar con todo el marco blanco que aparece alrededor de los vídeos, ayudándote a centrarte en lo que se está reproduciendo. Funciona con Netflix, YouTube, Vimeo y otros vídeos con HTML5.
Esperemos que la oferta de extensiones de Microsoft Edge mejore con el tiempo.
LastPass
Si odias tener que introducir el nombre de usuario y la contraseña de todas las páginas a las que accedes, LastPass es una herramienta gratuita que hará este trabajo por ti. Es ideal para aquellos que normalmente se olvidan las contraseñas y se pasan el día probando combinaciones.
Mouse Gestures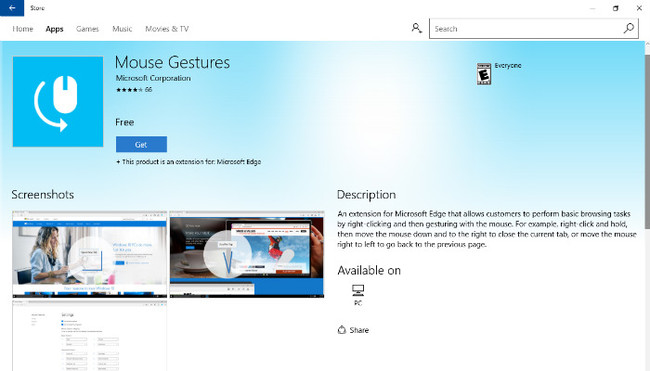 Aquellos que prefieren utilizar el ratón en vez del teclado seguro que amarán esta extensión. Power Mouse te permite manejar Edge con sencillos movimientos de ratón, pudiendo personalizar la experiencia a tu antojo. Existen cuatro movimientos básicos (arriba, abajo, izquierda y derecha) y 12 avanzados.
Office Online
Esta extensión te ofrece un acceso directo a tus archivos de Office más recientes (tanto si están en OneDrive como si están en tu computadora). Además, te proporciona accesos directos para crear nuevos archivos de Excel, Word, PowerPoint, etc.
Pinterest Save Button
Si te gusta guardar ideas en Pinterest pero te da pereza tener que ir a la web, esta extensión te ahorrará mucho tiempo y esfuerzo cuando quieras añadir nuevas entradas a tus boards. Puedes encontrarla gratis en la Windows Store.
En Xataka | Cómo utilizar aplicaciones de Android en Windows
Powered by WPeMatico