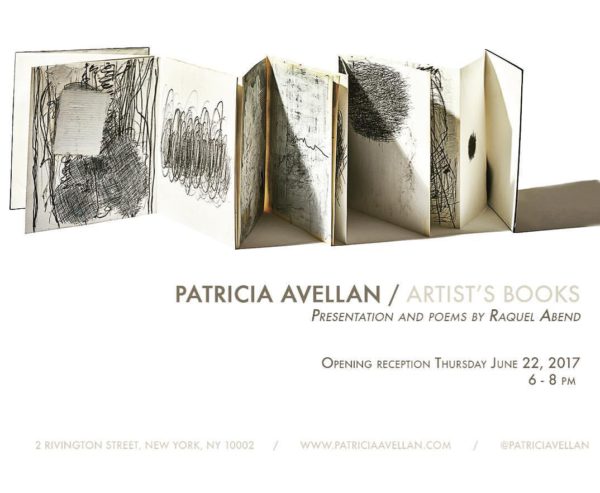 NUEVA YORK (Jueves 22 de junio): Eugenia Sucre y Michel Otayek presentarán dos hermosas ediciones limitadas de los libros que realizó la artista ecuatoriana Patricia Avellán con una introducción de los poemas de la poeta venezolana Raquel Abend van Dalen.
Patricia Avellán quien presentó la hermosa exposición Frágil y Beauty con la curaduría de Michel Otayek, estudió en la Escuela de Arte de la Universidad Central de Quito y, en los siguientes años fortaleció su formación en Brasil, Francia, Reino Unido y Estados Unidos, incluyendo estudios en las prestigiosas Art Students League en Nueva York y Saint Martin's College of Art and Design, en Londres.
Raquel Abend van Dalen es autora de los libros: Andor (Caracas, Bid&Co. Editor, 2013 – Suburbano Editores 2017) y Lengua Mundana (Bogotá, Común Presencia Editores, 2012). Su Segundo poemario Sobre las fábricas, ganador de la Mención Honorífica del "XIII Concurso Transgenérico Sociedad de Amigos de la Cultura Urbana", fue publicado en Nueva York, con Sudaquia Editores. Así mismo ha sido ganadora de la Mención Honorífica del Concurso de Autores Inéditos (Monte Ávila Editores, 2012) y de la Mención Honorífica del III Premio Nacional Universitario de Literatura (Universidad Simón Bolívar, 2009). Es coautora del libro: Los días pasan y las formas regresan (Caracas, Bid & Co. Editor, 2013). Textos suyos tanto narrativos como poéticos han sido publicados en medios periódicos nacionales e internacionales.
"ViceVersa Magazine es el país, continente de ideas, impresiones, poemas, imágenes, rabias o amores, comprensiones o preguntas, acertijos y propuestas, opiniones que transitan de adentro hacia fuera y viceversa." – Lupe Gehrenbeck
Afíliate a ViceVersa Magazine y asegura su futuro

Afíliate

Powered by WPeMatico