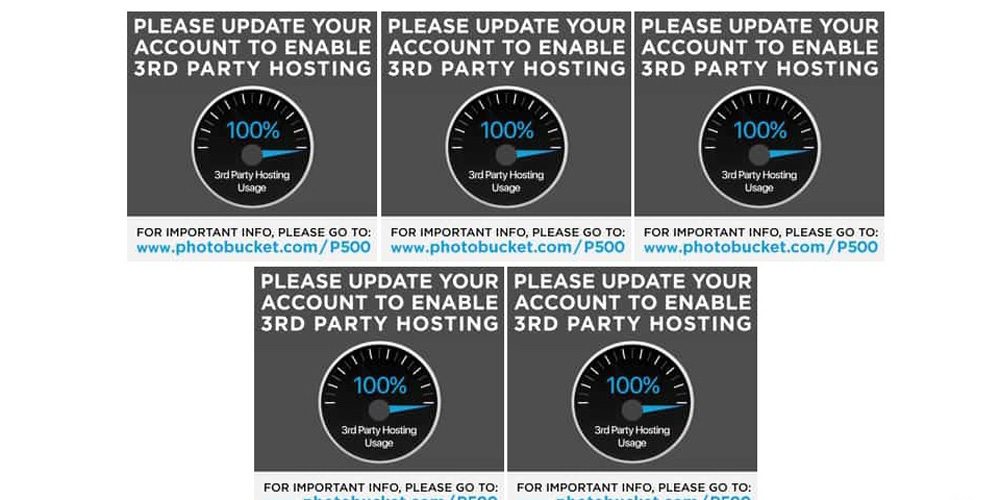 La semana pasada el servicio de hospedaje de imágenes Photobucket anunció a sus usuarios los nuevos términos y condiciones que comenzó a aplicar el 20 de junio. No sólo anunció el cambio seis días después, sino que además no dio información alguna de las actualizaciones más importantes en el comunicado, dejando todo en la "letra pequeña".
Los usuarios del servicio ya se han dado cuenta de lo que implicaba esa "letra pequeña": Photobucket quiere que sus usuarios paguen una cuota anual de 400 dólares para poder insertar imágenes hospedadas en su servicio en webs de terceros. ¿El resultado? Miles de imágenes "rotas" que muestran el aviso para que paguen la cuota en medio internet.
La cuota es la suscripción premium, que se supone reservada para quien necesita el máximo almacenamiento.
La práctica ha sido señalada como chantaje por muchos usuarios, ya que el servicio no avisó con antelación y ahora sus imágenes están "secuestradas". Hay quejas de que el servicio ni siquiera les deja descargar las imagenes.
Su respuesta oficial a través de Twitter sólo tira balones fuera.
⚠️ Thank you for all of the recent feedback and questions. We are trying our best to respond quickly and thank you for your patience 🙂

— Photobucket (@photobucket) July 1, 2017
Photobucket nació en 2003 como un servicio gratuito en el que hospedar fotos para insertas en webs y foros.
Mientras el servicio ha experimentado con suscripciones, y ahora con "rescates", Imgur, un servicio mucho más popular ahora gracias a Reddit y similares, ha seguido un camino totalmente diferente potenciando sus virtudes en lugar de restringir funciones y lograr ingresos a través de la publicidad.
Powered by WPeMatico